PRK
Achieve the clear vision you deserve. A solution that's as effective as LASIK, but uses a different method to access your cornea.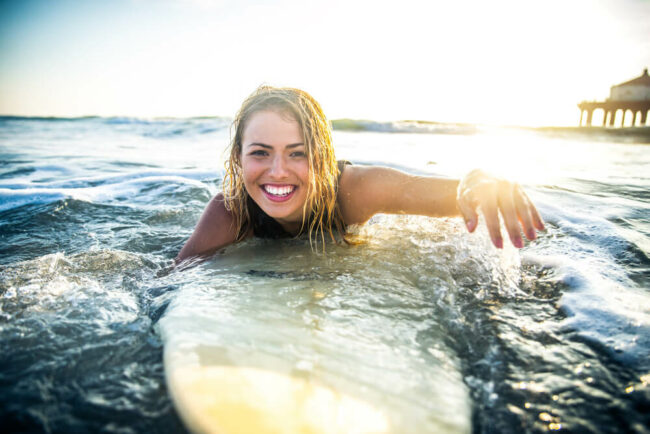 What Is PRK?
PRK (Photorefractive Keratectomy) is an extremely effective procedure that is an alternative to LASIK. PRK offers the same vision correction as LASIK but differs in its approach to preparing the surface of the cornea.
What Is The Difference Between PRK & LASIK?
While LASIK employs a laser in creating the corneal flap, PRK gently removes the epithelium (the skin covering the cornea) so that the laser can be applied to the surface of the cornea.
Typically, PRK is reserved for those patients whose corneas are too thin to undergo LASIK or who possess corneal irregularities prior to surgery. You and your surgeon will decide whether LASIK or PRK is better suited to your needs.
Is PRK Right For Me?
If you answer "Yes" to any of these questions, PRK might be right for you.
Are you having difficulty reading or seeing far away?
Do you have trouble with depth perception?
Are you nearsighted, farsighted, or do you have an astigmatism?
Are you looking for the benefits of LASIK but can't have LASIK?
Frequently Asked Questions
Can I call the office to ask about PRK before scheduling a consultation?
Yes, please call the direct line: (561) 777-7032.
How Long Does The Initial Consultation Take? Will I Be Told If I Am A Candidate?
The complimentary consultation takes about 90 minutes including the diagnostic testing. After reviewing all the tests performed, our doctors will let you know if you are a good candidate for the procedure. We will also answer all the questions you may have about PRK.
Is The Surgery Done At All Of Your Locations?
PRK is performed at our Boynton Beach location. Our O.R. and state-of-the-art laser equipment are located there.
Will My Insurance Cover PRK?
PRK is considered an elective procedure by most insurance. Consequently, it is not a covered procedure. We do offer financing with no interest for 12, 18, and up to 24 months through Care Credit. Visit www.carecredit.com for more information.
Is The Procedure Painful?
Drops are given to numb the eye, so most patients report that PRK is a painless procedure. However, the recovery process for PRK takes about five days. There is discomfort usually around the third day. We will provide the necessary resources to make sure you are comfortable during this period. A little patience goes a long way with PRK. The result will be amazing!
How Long Before I Can Return To Work/School/Other Activities?
PRK heals a little slower than LASIK, and it may require a few days off from work following the procedure. We typically recommend refraining from strenuous exercise for 5 days and no swimming for 3 weeks. Specific concerns will be discussed your doctor.
How Do I Know If I Am Choosing The Right Practice For My PRK?
PRK is a surgical procedure that requires a high level of skill and experience. Not only should your surgeon be board-certified in Ophthalmology and a Fellow of the American College of Surgeons, but he or she should also leave you with a feeling of comfort upon addressing all of your concerns. At Katzen Eye Care & Laser Center, our physicians pride themselves in providing excellent care with attention to detail all along the way. We will make sure you have all the knowledge so you can move forward with making a confident decision.